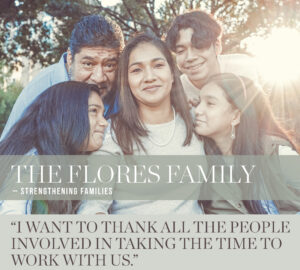 "We came to this country to provide a better future for our children," says mother, Nadia. "We want to adapt and learn the culture here, but mostly, we want to preserve our family bond." Realizing that her children would need support navigating adolescence, she was drawn to a workshop outlined in a pamphlet that their elementary school in Aldine ISD sent home. The content of the family workshops was appealing, and she thought the course, available by Zoom, was a great opportunity to work on her family's resilience. Nadia had also been hearing about the importance of family communication in her church.
She was met with enthusiasm from her daughters Nicole and Natalie, ages 8 and 10, and resistance from her 15-year-old son, Noe. She signed up anyway and the family began the 10-week course called Strengthening Families. They were provided with a manual, daily exercises and practices that added simple routines in their life. After the first two sessions, happily, her son decided he wanted to join in the class. The course was led by instructor, Luz Mosquera (SMH prevention staff member). Very soon, the family began to see positive changes in their interactions. They began holding a weekly family dinner and meeting each week. Their conversations led them to the understanding that they were all part of a team that needed to stay connected. Especially impactful, their honesty around drugs and alcohol led the family to a higher level of consciousness of responsibility and confidence knowing that they were there for each other.
Luz visited their home and made sure they had everything they needed to be successful. Her kindness and care was apparent and touching. Nadia says, "This was really a training for school, for social situations and real life. I see more leadership, confidence and participation in school from all of my children. I feel grateful that my son comes home and openly talks with me about some of the difficult things in his day. I have learned to listen without judgment, only support."
"We are a community struggling with different issues and I have learned a new approach to know how to start and lead a conversation to discuss these things. I have also learned to make better decisions about consequences and discipline that keep the communication lines open," shares Nadia.
BECAUSE OF YOU, WE CAN FORM THE FOUNDATION OF OUR RECOVERY COMMUNITY TOGETHER
You are the hero of our stories, for it is because of your support we have the resources to reach out and form the foundation of our recovery community. Please consider a gift today and be a part of building and restoring the lives of women and families in our community. 
Be assured that your gift will be put to good use immediately, so that every woman has access to the support they need to thrive. Thank you for your generous and caring spirit.