Dear Friends,
As the year draws to a close, there is a special feeling in the air. The holidays are upon us, and our thoughts are concentrated on celebrating with family and friends. Special feasts and traditions of gratitude are planned. We search for the perfect gifts to give our loved ones. We take time to stop and reflect on how blessed we are, even in the midst of the challenges and change life brings.
Often, in our gratitude, we think of those in our community that need help. Our Santa Maria supporters are filled with such generous thoughts. You remember our work and our participants with gifts and good wishes. Our families depend on your kindness to make their own holidays brighter and to reveal a better way forward.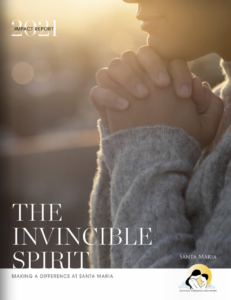 For 65 years, Santa Maria has supported and empowered Houston's families to live successfully in recovery and reach their full potential. We wanted you to meet some of these wonderful people, if only briefly. Inside of our 2121 Impact Report you will find four inspirational stories of transformation. We believe you will be inspired by their invincible spirits and hope you will be moved to be a part of offering others the chance to make their own recovery journey.
We can't do this without you! We need your support to continue the work of rebuilding lives. Please consider a gift of any size to show that you believe in the power of our recovery community. 
We will immediately put your gift to work to provide critical treatment, housing and supportive services to restore families and place them on the road to long term stability and success. Your support will provide hope and healing to thousands of women and family members in the coming year.
Thank you for helping us to achieve our mission to empower women and their families to lead healthy, successful, productive and self-fulfilling lives.
With gratitude,
Nadine Scamp
Chief Executive Officer
Ways To GIVE:
Text GIVE to (713)715-1435