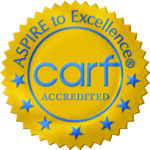 Our original award of CARF (Commission on Accreditation of Rehabilitation Facilities) recognition was March 3, 2018. Our recent renewal survey awarded us three additional years of recognition. This distinguished award was earned by Santa Maria after a process of intense inspection which recognized the focus of our leadership to continually improving services, gathering pertinent feedback from participants and to meeting internationally recognized standards in care.
The accreditation process began with a thorough self-evaluation that applied the relevant CARF standards against the organization's practices. Next, we requested a CARF survey followed by an on-site survey. We were visited by Industry peers who followed a consultative approach during the on-site survey. In addition to interviews of staff, persons served and their families, the surveyors observed organizational practices, reviewed appropriate documentation, answered questions and suggested ways to improve operational and service deliveries.
Following completion of the survey, CARF renders an accreditation decision and delivers a report that identifies the service provider's strengths and areas for improvement and its level of demonstrated conformance to the standards. The Santa Maria leadership then completes a Quality Improvement Plan and submits it for review.
We would like to recognize and congratulate our leadership team for their achievement.
Mary Buchner,

Chief Clinical Officer

De'Audra Whiting,

Senior Director of Quality Improvement

Valencia Jack,

Executive Assistant
Led by Mary Buchner, Chief Clinical Officer and De'Audra Whiting, Senior Director of Quality Improvement and expertly coordinated by Valencia Jack, Executive Assistant.