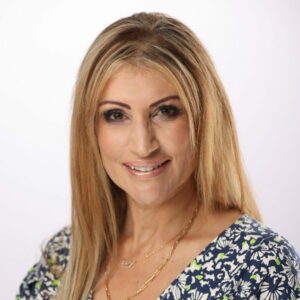 Cary White, our new Chief Development and Communications Officer is a native of Florida but no stranger to the needs of underserved communities and families struggling to make ends meet in Texas, that is why for the past 25 years she has dedicated her life to enhancing life transforming services through programming, fundraising and local likeminded partnerships.
For the past 5 years, Cary spearheaded the development department at a Federally Qualified Health Center (FQHC) in Houston that served over 13,000 low-income families in the Denver Harbor and Airline area in Houston.
Before coming on board with Santa Maria, Cary worked at one of Houston's most premier Federally Qualified Health Care Centers (FQHC) founded to fulfill the need for high quality affordable health care to medically underserved communities. In this role, Cary was responsible for securing multi-year funding sources that would expand and support over 13,000 families a year. All awhile building impactful collaborations with corporate partners, local foundations and successfully cultivating long lasting ambassadors to support and serve its' mission.
Cary has two daughters that also work in local nonprofit agencies and when asked, she will tell the apple doesn't fall far from tree, it's in our families' DNA "I love to see people reach new levels that were once, just a dream, it inspires me and gives me great joy to be able to serve in this capacity."
Cary graduated from the University of Miami and has a bachelor's degree in business with a minor in marketing.