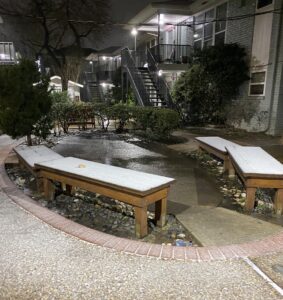 We are so grateful for the many inquiries of how we fared during the snow storm and the frigid temperatures.  Like most of the city, indeed the state of Texas, we were hampered with loss of power, water and a few broken pipes.  Luckily, no lasting damage or injuries came our way.  We had 154 women in residence, 36 children and 52 babies under the age of one at our three properties.
Many of our staff were unable to get to work on Monday and so those that were on property stayed extra hours and even overnight to provide all necessary services.  While visiting with the clients on Sunday, they each had stories to tell of banding together and "riding it out" as a community.  Their spirits were high and they had great respect for those that stayed with them and made sure they were safe.
Sharing some of their comments:
"It was kind of fun, we had to live "wilderness style", melting the snow to use for our toilets."
"I knew it wasn't going to be forever and I had faith and hope that we would help each other. And we did."
"I am really grateful to have been a part of that, God was blessing us in different ways during the storm, you could feel it in the ambience, everyone was calm."
"Our counselor braved the roads each day to be with us, she is the bomb."
"Our tech staff cooked our meals and then delivered it to our rooms three times each day so our children did not have to go out.  They did everything we needed."
"I was so grateful to be here, instead of the county jail, where I came from.  We were safe and they took good care of us."
"We did peer-led support groups:  AA twice a day, relapse prevention and more to stay on track."
"One of the techs stayed four days in a row, sleeping in her office.  She took care of everything.  Just to thank her, we made her a poster to hang on her wall at home.  She was amazing."
"It was actually fun at first, we made snowmen in the courtyard and had snowball fights.  We were like kids."
"We made the best of it.  Some of the girls were braiding hair and giving each other new hairstyles.  We are looking pretty good!"
"My 8 month old made us all happy.  She was happy regardless.  She didn't know anything was going wrong.  They brought in generators and heaters, so we were warm."
"Our outpatient group met in the dark of our homes on ZOOM, on our phones.  We needed the support and our counselor led a great group.  It was kind of weird, but it worked."
Special thanks to:
CenterPoint Energy for the large donation of food for our pantry.  It was plenty to restock both kitchens.
Jake's Finer Foods for making a difficult delivery on icy roads to make sure we didn't go without.
Harris County Supervision and Corrections Department and Gateway Operations for delivering generators and heaters for our moms with young children.
Want to help?  Please think of sending a cash donation or providing some of our basic needs.  Call or e-mail Marcia Chaney at 832-236-8611 to learn more.