Our Holiday Helpers
2 of 3
We received so many gifts and blessings of attention during the holidays, it will take three emails to recognize them all! Almost daily in December, some caring organization, individual or faith community pulled up to our front door and unloaded their vehicles of toys, clothing, basic needs for babies and self-care toiletry items. The week of Christmas, staff lovingly arranged all the donations in two stores that were created for each campus. With encouragement and support, each of our resident mothers shopped for the perfect gifts to give to their children. They also wrote holiday cards to include in their gift choices, which may have been the sweetest gift of all. Many were moved to tears and expressed their amazement at the incredible selection for all age groups. Knowing that there are so many in our city that support their choice to be in treatment is really touching, strangers who care are not usually so obvious.
Take a moment to view the video of one of the stores and the clients who enjoyed them. You won't want to miss it!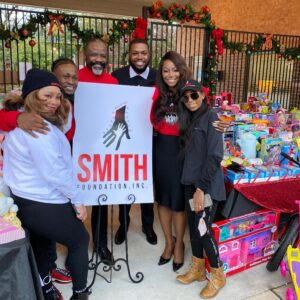 The Smith Foundation – A U-Haul Truck filled with baby items and toys pulled up into Santa Maria's parking lot mid- December and we have The Smith Foundation thank for the bounty. We were very excited to meet and greet Harry Leonard Smith, Mya Smith-Edmonds and 8 other members of the Smith Family, who came to spread so much joy around campus. Some members of this foundation flew from Indiana to be there with us! A heart-felt thank you to you all for impacting directly the lives of our residents who are working very hard to rebuild their lives. You are making the difference.
Sons of Hiram Masonic Lodge No. 1 – An abundance of blessings were delivered to Santa Maria. Led by Mark Black with the Sons of Hiram Masonic Lodge No. 1. Joined in the effort were the spirited chapters of the Eastern Star; Daughters of Faith Chapter No. 4, Faith Chapter No. 35 and Daughters of Deborah Chapter No. 1. The Lodge gathered gift certificates for the older kids and educational toys for the toddlers. The ladies stuffed purses and festive bags with self-care items for each of our residents! Everything happened right before a blustery rain but everyone remained dry and happy. We are grateful for their generous gifts.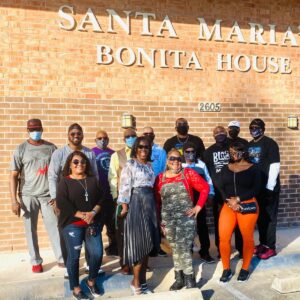 Texas Corvette Cruisers – On Sunday, December 20 the Texas Corvette Cruisers passed by the entrance of Bonita House and dropped off toys and gifts for our residents. The moms and children at home that afternoon were treated to a look-see in the parking lot and then cheered as the classic, pristine cars pulled by and dropped presents off as they left. This was the Corvette Cruisers first toy drive but they had so much fun, they vowed it would not be the last. Thanks to Pastor Sidney Marion and Frank Satcherwhite, President for creating this unique social distancing fun provided for Santa Maria.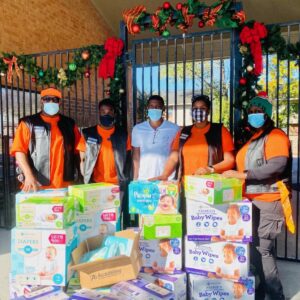 Kutie Pie and D12 – Although the names sound like a great band, D12 – Distinguished Ones on Twos is actually a community- minded motorcycle club. After serving the homeless lunch downtown, they continued their day of service with a generous drop off of some of our most basic needs; diapers, diaper wipes and baby blankets. They are a spirited and fun group who just like to 'do good'. They promise they will be back and we promise that they made us smile!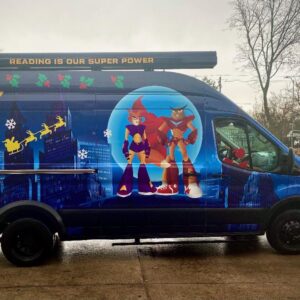 Barbara Bush Literacy Foundation and Harris County Public Library join forces for literacy and language! – On Saturday, December 19, the kids at Bonita House were treated to a visit from the Curiosity Cruiser, a library on wheels. Both organizations strive to provide reading materials and create programs that foster a love of books. Barbara Bush Literacy Foundation has been a great supporter of our early language and maternal bonding development efforts. They have promised to return once our children can safely explore the Cruiser.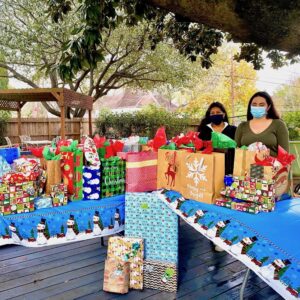 Paschall House -our Women Recovery Residence and Community Center had an early celebration thanks to friends and colleagues, Kristina Dorsey and Melissa Garcia who set up a socially distanced party on the deck for the 6 lucky families at Paschall House on Friday, December 18. They requested the preferences and sizes of each of the children and the kids were showered with clothing, toys, books and games. Since Paschall is a true community, it felt like a family celebration as young tots and moms munched on Christmas cookies while they were delighted with their presents. Our hostesses made the event special, even outside! Thanks for your love and caring, Tina and Melissa, you brightened our holidays in every way.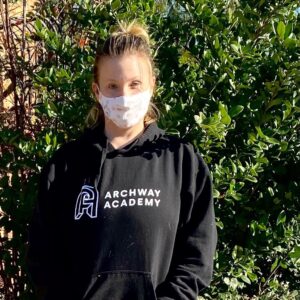 It took Lisa Lyerly of Archway Academy, three trips to bring all of the gifts that were donated by her school. For years, the students, families and staff have brought LOADS of joy to us at the holidays. Although we normally have the students meet our kids and just PLAY together… this year they made up the distance with even more presents. Archway Academy is a way through… a sober high school in the heart of Houston. They meet the needs of teens recovering from substance use disorder with care, compassion, respect and rigor. Kudos to Lisa and her team for modeling community involvement and support in the students' studies.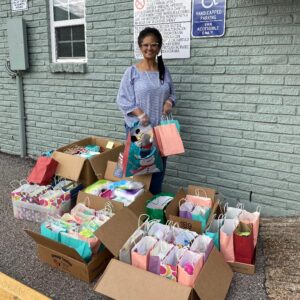 The Living Legacy Center – Just at the right time we received a call from this group. They wanted to help make the holidays brighter for our residents and so they did! Sixty care packages were quickly and nicely put together by members of this organization and personally delivered by Lauren Johnson on Tuesday, December 22. Our residents at the Jacqueline Campus received them the very same day and were very appreciative… thank you to the Living Legacy Center, we hope to have you back soon.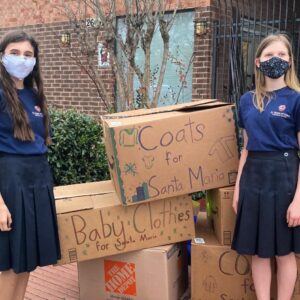 St. Rose of Lima School – How lucky we are to have received several cases of coats for our residents and their children right before the latest cold snap. Pictured here are two of the students from St. Rose of Lima School who coordinated the drive with their classmates. Thanks to student Maggie Padilla for getting in touch with us and making this happen. This winter our residents are feeling the warmth of your caring and concern!