Our Holiday Helpers
1 of 3
The holidays were amazing at Santa Maria! Our caring community supporters really came through with so many types of blessings this season. Beginning with a sumptuous Thanksgiving dinner and ending with a visit from Santa, we wanted to share the holiday memories with you.
Almost daily in December, we accepted socially distanced drop offs of toys, self-care items, basic needs and clothing that warmed our hearts and provided incredible gifts for our women and children who reside with us!
A week before Christmas, we collected the toys and precious baby necessities as staff set up a fantastic store wonderland of goodies, organized by age range. First in the training room at Bonita and then in the dining room at Jacquelyn House this store was lovingly curated. This store-like setting allowed our residents to come "shop" for each of their children, selecting gifts and a little something for themselves! Staff assisted with the bountiful mounds of toys, matching children's personalities and wishes with the donations combined from the generosity of our community.
"This is amazing" and "Thank you Jesus for all the love!" were just a few of the expression heard from our residents as they shopped. They completed the event by writing endearing Christmas cards and notes, including these sentiments in their packages.
Take a few minutes and watch the fun!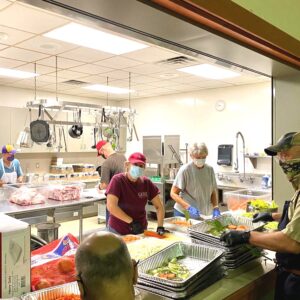 Klein United Methodist Church (KUMC) – On both of our campuses, residents were treated to a hearty and delicious Thanksgiving feast, an annual event presented by the caring members of KUMC. This year, the feast needed to work within our COVID protocols, so it became a "take-out" event. The church members still served this annual tradition with love and compassion, as they do annually.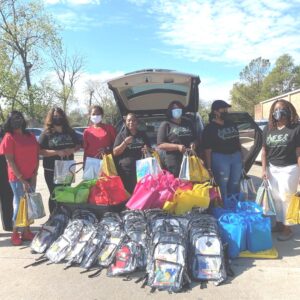 EES Ministries – A donation of gift bags for every resident at Bonita House! Our gratitude to the organizer, Teresa Baker of EES Ministries and the two other women's ministries involved: Encourage Ministries and Women Breaking Barriers. These gift baskets included self-care items for ladies and toys and activities for their children.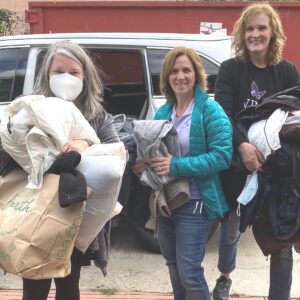 Wings Ministries – Here are our friends from WINGS Ministries answering the call for a coat drive! Accepting gently used coats for women and children is Marcia Chaney (right) and WINGS ambassadors Michelle Lawrence and Chrissie Chenette.
National Charity League (NCL) Cypress – Thanks for the snowman-themed decorations lovingly placed at Bonita House! Our partners, NCL Cypress Gems club converted our campus to a winter wonderland. Their monthly activities for the residents always have beauty, style and love.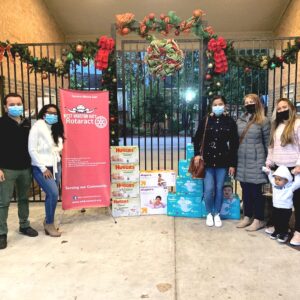 West Houston Katy Rotaract visited Bonita House on Saturday led by Sara Adjokater, outreach chair. They brought baby formula, diapers and diaper wipes in bulk! We are grateful for their practical gifts and are happy to renew our relationship!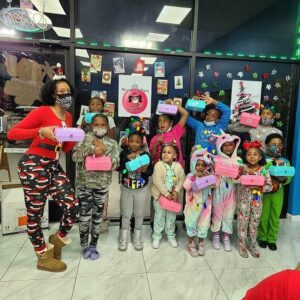 Party Caboodle – Our thanks to the glorious princesses at Party Caboodle for their donation of festive caboodles stuffed with beauty and self-care items for our residents! Leader of the caboodle brigade is the wonderful Josie Wiltz, teaching the art of giving to her young members and leading with her heart!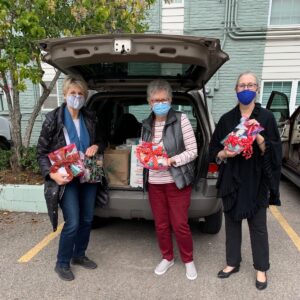 Chapelwood – The Women's Perspective Group does it again! Since this year they could not come into the Jacquelyn campus to visit with our residents, they instead dropped off 60 goodie bags, Christmas cards and 18 trays of assorted cookies for our staff to deliver to coordinate the card making activity with our residents. They came back to pick up the cards to put them in the mail for delivery.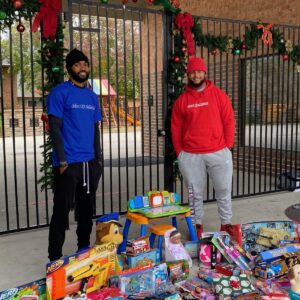 Select QB Athletics – hosted an event to celebrate their successful year training elite quarterbacks to perform even better. These wonderful guys gathered toys for the residents -well over 80 toys! Pictured here, left to right are: Milton Holmes III and Darrell Colbert, Jr. dropping the toys off outside our lobby! Thanks for connecting with us and MERRY CHRISTMAS to our favorite football organization!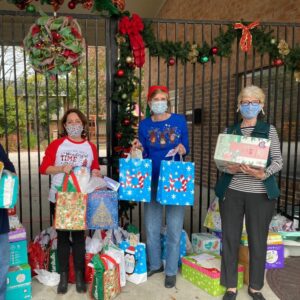 Christ Church United Methodist Church Sugarland – The Women's Group dropped off some special gifts for our newest babies in the BAMBI (Baby And Mother Bonding Initiative) Program. Each infant received a gift bag with special cuddly items and so did each new mom. Diapers and other essentials were also donated as well as snacks and drinks for a festive resident gathering to celebrate the season. What a blessing these fine women are to BAMBI, supporting the program for nearly 8 years, several times each year.