Most of our supporters know of our two main treatment campuses, Jacquelyn and Bonita House. A lesser known hidden gem is our original location on Paschall, just north of downtown off North Main Street. This location is where Santa Maria began in the late 1950's as a residence for substance use disorder treatment. Much has changed since then with the science of recovery and the best practices of treatment. However, this wonderful old Victorian home has become the center of a vibrant recovery community. One advantage is that it gives a home to our PAC (Peer Advisory Council) an organization designed to build recovery relationships among the recent graduates of our treatment programs. This group is led by recent graduates of our treatment programs and gives them the opportunity to step out of their comfort zone and integrate into being a productive member of the recovery community.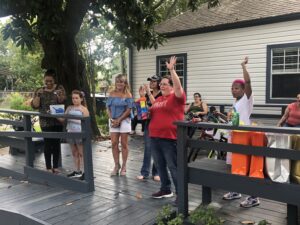 Before COVID restrictions were in place, this group scheduled bike tours, monthly recovery celebrations, bake sales and attended recovery meetings in this wonderful space. Now, like the rest of us, their Council has been meeting by ZOOM and over the phone to keep in touch. At a recent meeting, officers planned the sale of PAC tee shirts on our website.
They also discussed ways to engage soon-to-graduate participants from our residential treatment programs. Through lived experience, they all know that a community of peers is absolutely essential for support and connection. The guidance from this organization comes from Santa Maria's own recovery support specialists, Amelia Murphy and Lillian Stephens.
The roster of PAC officers is a snapshot of the strength these women have to offer.  Their activities and vocational goals are a testament to the world of possibilities opened by their own journeys.  They are each choosing to "give back" to those struggling by finding jobs in the field of recovery or through their commitment to PAC.
President Holly – studying to become an LCDC (Licensed Chemical Dependency Counselor).

Vice President Ronnie – a Peer Recovery Coach working as part of a frontline opioid intervention team at Houston Recovery Center.

Treasurer Cassandra – a full-time health care worker able to beat the odds of her past to regain a starting position. She was soon promoted and is currently training to be an x-ray technician at her employer's clinic.

Secretary April – beginning a new position at Luna Recovery as a recovery advocate and moving to her first independent apartment with her twin sons.

Community Organizer Jessica – part of the street peer group at Mercy Street Church, also studying for her LCDC.

Community Organizer Heather – currently completing her recovery coach training.
Here at Santa Maria, we know there is so much that is needed to change the direction of a life. Finding purpose, a support structure, goals for the realization of meaningful and fruitful employment and building lifelong friendships take forethought and structure.  Our beloved PAC provides that bond for those who want to stay involved with their sisters in recovery.
They are the face of RecovHery!
If you would like to  purchase a T-shirt to support the PAC, click here.