Sometimes you have to lose something to realize how precious it is to you.  This was true for Shannon and her right to vote.  She realized how important this election is for Americans.  Shannon wanted to cast her ballot and use her voice.  Up until now, a felony conviction had kept her from exercising this basic right, but with new laws passed, her privilege was restored.
Shown here after the staff drove her to a nearby polling place, she is energized and happy to have cast her very first ballot at the age of 41.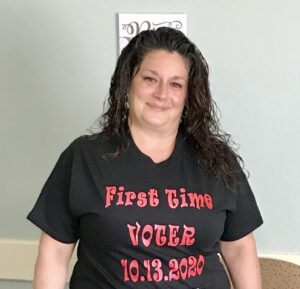 "Some of the decisions I had made in my addiction left me with a criminal history.  Although I have made mistakes; I am still a citizen and an actual part of the society,' Shannon says. 'I have changed my ways, leaving the path of destruction I was on.   I feel like I am not labeled as an outcast any more.  I have worked to gain my integrity.  I voted for my children's future and safety."
Shannon is one of our new moms, a resident of our criminal justice program, Women Helping Ourselves (WHO).  She was referred from the court and three days after arriving from the Harris County Jail, she gave birth to her "life changing blessing" infant son, Cleveland (CJ for short).  He was a healthy boy and they have bonded and grown together during her stay.
Shannon had been on the streets with a full -fledged and likely fatal substance use disorder.  She was, fortunately, arrested and offered a chance of treatment and the chance of a brighter futures.  She says she arrived with "sneaky and manipulative thinking" and was met with "uncut, raw and brutally honest kindness" that instilled the integrity of thought that she exercises today.  After her discharge, she plans to move to a transitional living center, find a great childcare center and look for employment to begin her new chapter.
She reminds us all of the great privilege it is to live in a democracy and exercise our right to vote!  She is looking forward to a productive and self-fulfilling life with her beloved baby son.  She is the Face of RecovHERy.