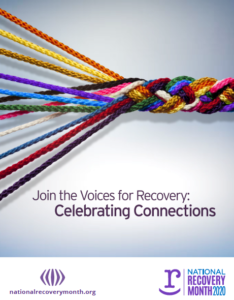 National Recovery Month is a national observance held every September to educate Americans that substance use treatment and mental health services can enable those with mental and substance use disorders to live healthy and rewarding lives. Now in its 31st year, Recovery Month celebrates the gains made by those living in recovery. Here at Santa Maria Hostel (SMH), we celebrate recovery all year in the special work that we do with women and their families finding a path to a better life, a hopeful way forward.
National Recovery Month was founded and supported by SAMSHA (Substance Abuse and Mental Health Services) for the past 30 years. 2020 begins a new chapter with the organization Faces and Voices of Recovery leading the effort.  From their website, "Recovery month works to promote and support new evidence-based treatment and recovery practices, the emergence of a strong and proud recovery community and the dedication of service providers and community members across the nation who make recovery possible."
Again, from the Faces and Voices of Recovery website, "This year's recovery month theme, Join the Voice for Recovery: Celebrating Connections, embraces the adversity experienced in 2020. When we celebrate our connections diversity of people from all walks of life striving for recovery, we find support and courage to speak up for inclusion, respect and opportunity."
SMH would like to join in this spirit of "speaking up" to honor those on our staff and our clients, past and present, who embody this diversity of people.  We are proud of the role that SMH plays in creating and connecting community.  We will continue to support inclusion and respect for all.  We will continue to provide opportunity and look for new paths forward.
We call to those who need help to seek services and treatment.  A better future is possible.  There is a recovery community waiting to embrace you.  And for that, we are grateful.