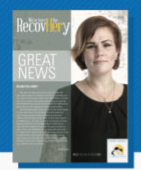 Holly made the Dean's List for her third semester!  While attending HCC, fall 2019, spring 2020 and summer 2020, Holly continued to succeed in her studies with classes focusing on human services.  After completing her basic classes at HCC, her goal is to transfer to University of Houston Downtown and pursue a Bachelor's in Behavioral Health.  She also wants to hold a certificate for Licensed Chemical Dependency Counselor (LCDC).
You may remember Holly's story from 2019, a story of triumph at Santa Maria.  Today, she is now firmly focused on her next goal, completing her education and beginning a career helping women with whom she shares experience and struggle.  She has moved out on her own and is balancing all the demands of life as a student and mother during this time of COVID-19.  She was elected to serve as President of the Peer Advisory Council (PAC) for the alums of SMH.  Although their in-person events have been severely limited, Holly brings the same joy and enthusiasm to this role as she does to everything else she does in her life.
Holly was awarded some important support from the Houston Hobby Area Rotary Club.  This past spring they donated $2000 for her academic costs, in the form of a scholarship granted by the Club and matched by supportive members Joyce and Mario Reyna of Traf –Tex, Inc.   Some time ago, the president of the Club had asked Tommy Austin, court liaison services staff for Santa Maria, to keep his eyes out for a promising SMH alum pursuing a college degree.  During a presentation to the group, Tommy told them of Holly and her academic pursuits. The membership asked for Holly to write a consideration letter to tell them of her studies.  They were so impressed that they immediately awarded the scholarship for her next semester.
At Santa Maria, we encourage our clients to reach their potential with dedication, hard work and a vision of a new life.  Their hope and tenacity open new doors for their future.  If you would like to support women like Holly, changing their lives, please donate and give what you can!  Sometimes a little help from our community is all that is needed.