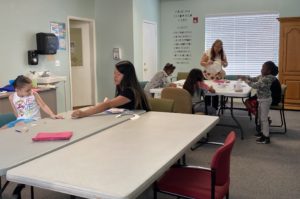 Everyone with school-age children has been facing the reality that students will not return before the end of the school year. Nationwide, parents are learning to assist with "home-schooling" their kids, guiding them through new on-line platform learning and activities that keep young minds active and engaged. They are also learning to add active play, games and creative projects to entertain at home.
Here at Bonita House, where children live on campus with their mothers while their moms are receiving treatment, we are also faced with that challenge. We currently have about 25 school aged students living on campus, ranging in age from 5 to 15 years old.
We are fortunate to have our Prevention Specialists from our Prevention and Intervention Program (PPI) to provide an array of social and emotional learning experiences along with some just plain fun games, movies and entertaining activities.
Our Prevention Specialist team have arranged a variety of positive sessions including arts and crafts, board games, educational bingo and on the horizon, an Easter Egg hunt.  As school shifted to online lessons and work packets, our staff jumped in to assist with support.
All students and staff practice social distance and hygiene measures as required to prevent the spread of any virus.
PPI has a total of six staff from two different programs, Strengthening Families and Kid Connection.  The employees are usually active at schools and community centers providing an array of prevention services to vulnerable children and their parents.  With the closure of these locations due to the coronavirus, the staff has been able to work directly with the students who are living at home with us. They are able to use their creative ideas and expertise to form activities around the curriculum of Kid Connection.  They have even started a movie time to watch the latest releases of Disney movies together.  We are grateful for their ingenuity and talent but most especially the flexibility to help where needed.