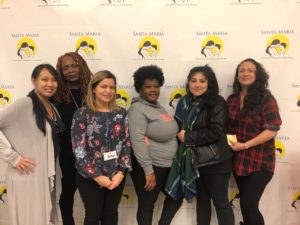 Priscilla and Brysha began our interview with big, happy smiles which clearly revealed their deep sense of accomplishment surrounding their recent achievements.  They had just completed their career development phase at Santa Maria (SMH) and were ready to transition back to the community.  For the past two months, part of their program revolved around career development.  Both had entered the treatment program with skills that would only land them entry retail or hospitality jobs, not sustainable work for stability and continued growth. Beginning on campus, they participated in our own career development classes, led by staff member Linda Johnson.  They were also able to be inspired and guided though a community volunteer program brought to our campus, called WINGS Ministries.  In both activities, they learned the basics of job search, applications, resumes and interviewing skills.  They started building their confidence.
They were also fortunate enough to be in our first class, a new collaboration with our partner AVANCE, to shore up these skills and expand on their base.  Over seven weeks, they participated weekly in the facilitator-led, interactive course that covered healthy relationships, money management and other related topics crucial to forming the strong foundation for securing and maintaining viable employment.  Near the end of their session, Priscilla and Brysha and their classmates, successfully earned their forklift and aerial platform safety certification.  This additional training qualifies them for jobs that are readily available in the city and double their earning potential to a range of $13-$16/hour.  Brysha pointed out the timing of this developmental opportunity was especially important.  While she was still being supported and nurtured at SMH, she was able to achieve all of this career preparation and training without the distractions that would inevitably arise once she moved home.  "Now, she says, I am ready to begin a good-paying job and get busy right away.  I will be able to take care of my baby and my obligations.  I am taking something with me that offers a plan." AVANCE offers additional courses and certifications in computers, culinary training and other sustainable careers.  Both women plan to return to expand their capabilities.
Establishing and maintaining a path of long-term recovery is much more than simply staying clean and sober.  It is incremental transformational change in all areas of life.  The qualification and ability to obtain employment at a livable wage is not only crucial, but confidence-building. It creates purpose and strength that meaningful work offers.  As Priscilla and Brysha transition back into the community, they will take many tools for recovery, now opportunity for a sustaining career is one of them.  Their full participation in not just the career development, but all phases of our WHO (Women Helping Ourselves) program, shine a light to strength this criminal justice alternative program creates for our clients.  We are proud of their tenacity and willingness to improve their lives. We salute their achievements and will follow their progress with Recovery Support Services and our commitment to their journey. We are here for RecovHERy.