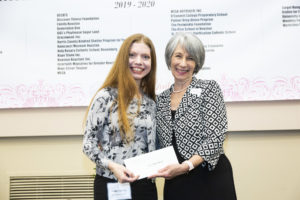 On February 3, the Charity Guild of Catholic Women awarded $484,926.00 to 47 non-profit organizations to help children in need in the Greater Houston Area. The presentation took place at the Charity Guild Shop located at 1203 Lovett Blvd. The Charity Guild was originally founded in 1922 to support what is now the San José Clinic.  The Guild continues their support to SJC but the impact has expanded as the resale shop has grown in size and reputation. Santa Maria was one of the fortunate recipients of a grant this year.
Nadine Scamp, Santa Maria CEO was present to receive our award.  The funds were awarded to the Healing Hearts residential program to provide behavioral health services, support groups and child development activities for children impacted by maternal substance use.
The Children's Charities Grant presentation reflects the significant partnership of volunteers, consignors, customers and community.  Presenter Cathy Minar, of Houston, serves as this year's president. Elizabeth Jordan led this year's Children's Charities Committee charged with reviewing more than 97 grant request applications.   Since 1996, the Charity Guild of Catholic Women has donated more than $6.4 million to more than 158 local non-profit organizations with proceeds from their volunteer run Charity Guild Shop. With almost 600 members from 64 parishes in the Archdiocese of Galveston-Houston, Charity Guild of Catholic Women logged over 103,000 hours of volunteer service in the shop this year. The grants are used to support programs that provide food, safe and acceptable housing, affordable healthcare, adequate clothing, satisfactory education, supportive recreation or enrichment services, or restorative and psychological assistance.
At 98 years, the Charity Guild is one of the oldest non-profit organizations in the Greater Houston Area. Plans are underway to celebrate the Centennial Anniversary which will take place in 2022.  For a wonderful Houston outing, consider a shopping trip to their bountiful boutique thrift store.  You will be sure to bring home a fabulous treasure and know that you are helping Houston's children with your purchase.