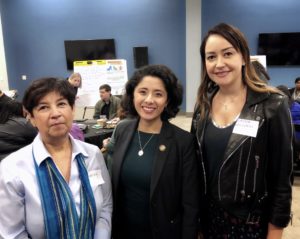 Harris County Judge Lina Hidalgo and Commissioner Rodney Ellis hosted the first of a listening series, a community conversation aimed at gathering input for programs that support early childhood development. The community gathering was held at The Health Museum on Saturday, February 15, 2020 as part of Baby Day.  Judge Hidalgo has been leading an effort to explore potential investments for young children in our community. This workshop was designed to inspire conversations on known best practices that allow children to thrive. Santa Maria's own Prevention and Intervention Department staff participated as experts on the front lines, educators and practitioners, with ideas of changes they believe will better prepare our children for success.
Research demonstrates that early childhood education has one of the strongest returns on investment for any type of public programs. Positive outcomes associated with early childhood programs include; better school performance, higher rates of employment as adults and less contact with the criminal justice system. According to Texas School Ready it is estimated by states "that as many as half of their children, particularly those from low socioeconomic backgrounds and/or learning English as a second language (ESL), are entering kindergarten programs without the basic cognitive foundational skills necessary for them to succeed." Thousands of families in Harris County simply lack access to essential early childhood resources for their children. Judge Hidalgo wants to dig deeper to explore what Harris County should offer to help each new generation of Houstonians grow up stronger, safer and better prepared to meet the challenges of the 21st Century.
"We can't avoid a conversation as important as the future of our children, and so while we are still working on infrastructure, flood control , criminal justice and all these other issues, we are also working for our younger kids." Judge Hidalgo said in opening remarks. "Today is about us learning. Please share all your thoughts, not only about pre-K, we are talking about 0-3 years, even pre-natal. We want to hear from you about what you want to see, in the Harris County future." she added.
We were excited about this opportunity to share our concerns and experiences with our elected officials. We were grateful for the platform to contribute our knowledge and expertise to help build a stronger community and a better future for our children.  We look forward to continued conversations that lead to stronger early education programs in our city.