Twitter For Good Elevates Houston
One Day -13,000 Volunteer Hours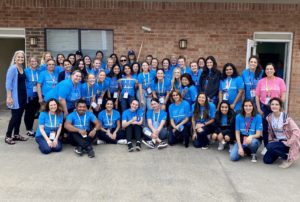 Last week the city of Houston welcomed about 4,400 Twitter employees (Tweeps) from 35 of their different global offices. They gathered in Houston for one of their "Twitter For Good" staff meetings. They chose to come to Houston because of the resiliency Houstonians showed after Hurricane Harvey.
Twitter, with the help of Volunteer Houston -a program of Interfaith Ministries for Greater Houston that connects individuals, groups, and companies with non-profit agencies to transform the Greater Houston community through volunteerism- coordinated a major logistic effort to deploy about 4,000 volunteers in one day to 51 different nonprofit organizations. At each agency the Tweeps tackled several different projects leaving behind refreshed and refurbished areas. Together, they provided over 13,000 volunteer hours in just one day! This was the biggest Twitter For Good event ever! Santa Maria was honored to be among the selected sites.
Even before the volunteer projects started on Monday January 13th, Twitter organized a Happy Hour to show the appreciation to the nonprofit organizations for partnering with them for Twitter For Good. This was a great opportunity to meet and network with members of the other nonprofit organizations and also it created an opportunity to connect with the top leadership staff from Twitter.
On Thursday January 16th, two different groups of Tweeps contributed to Santa Maria with two different projects. The first group of 30 Tweeps repackaged baby wipes and laundry detergent into individual packages for our clients. This project was completed in the ballroom at Hilton Americas where over 400 energetic participants assembled to complete a variety of tasks adeptly organized by Volunteer Houston for a multitude of agencies.
The second group of 50 volunteers was transported to our Bonita House campus at around 11 am, where after having lunch and a brief introduction to our organization and some members of our leadership staff, they were able to tackle different projects such as: painting the interior of our building including 3 bathrooms, repainting one long hallway and our training room, a spot that even included detail paint work with inspirational quotes. They also helped to sort and organize clothing and linen donations in the store and storage unit.
Together these two groups combined contributed close to 400 volunteer hours to Santa Maria!
Another amazing way Twitter wanted to give back to the local nonprofit organizations in Houston, was through an in-person training to share Twitter best practices to develop a more effective and engaging presence on Twitter.
The impact this group of volunteers made in our community is immeasurable. We, at Santa Maria feel honored and truly grateful to Twitter and Volunteer Houston for partnering with us to make our beloved Houston a better place.
Please follow Santa Maria on Twitter, and all other social media platforms that you may be part of. We are also on Facebook, Instagram and LinkedIn.