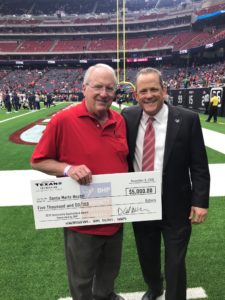 With the Community Quarterback awards, the Houston Texans and BHP recognize outstanding volunteers from local United Way agencies working to make Houston a better place. On December 8th, during the Texans vs. Broncos football game, these awards were presented to ten volunteers from different nonprofit organizations around our city.
Robert "Mac" McMillan a Santa Maria (SM) volunteer was one of the nine finalists and was awarded a $5,000 donation to benefit our organization. This is the third year in a row that one outstanding volunteer from SM, has received this award.
Mac has volunteered at SM for over 17 years and since then, he has contributed to more than 9,000 volunteer hours to our organization. His work started when he joined the SM Board of Directors in 2002. Then, in 2005, Mac joined the SM Foundation Board, where he was also elected treasurer. Today, he still holds this position and has been responsible for keeping the SMF accounting books for 14 years.
In 2009, he retired from his full-time job at the Houston Chronicle and immediately began his volunteer work as in-house auditor/CPA for our Accounting and Finance Department. Mac has since volunteered an amazing average of 70-80 hours per month!
Because of his extensive previous public audit and accounting experience and knowledge, Mac has been an outstanding volunteer who takes on many different accounting tasks with joy. His input ranges from intense accounting strategy discussions to filing paid invoices. "He has been my sounding board for many years" Barbara Page, CFO says. "We get multiple fiscal audits a year, and Mac plays a big role in helping us be audit-ready at all times".
We are so thankful for his nearly two decades of commitment to Santa Maria and for his constant support and contribution to the success of our organization. Please join us in congratulating Mac upon receipt of this is well-deserved recognition.
Another Santa Maria honoree includes the 2018 BHP Community Quarterback Award finalist Kathy Griffin-Grinan, who serves as Human Trafficking Director for Harris County Constable Precinct One.  In 2017, Lisa Carpenter, a Santa Maria alumna and one of our Board members was also recognized with this award!  We are certainly fielding a team of winners!  Congratulations one and all!