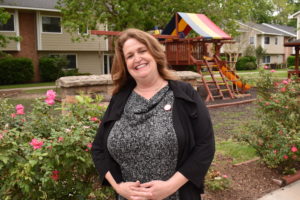 The year 2012 marked the fourteenth time of incarceration in a period of 10 years for Sharon, as a result of her substance use disorder. She recalls sitting in her jail cell feeling broken, hopeless, simultaneously suffering from other health issues— she felt she had hit rock bottom.Suddenly, it was here– the day that changed her life forever. She recalls seeing three women walking into the prison and staring directly at her. "It was the first time I felt someone look at me with pure love—that, I will never forget." She recalls. The women she was referring to were Santa Maria's recovery coaches (at the time) Amelia Murphy and Cynthia Branch who teamed up with Kathy Griffin, a long-time recovery partner, and now-director of the Precinct One human trafficking division. Sharon remembers clearly their words that have remained with her forever: "It is not too late for your dreams to come true. What God has in store for you is going to blow your mind." After learning about Santa Maria's Path to Recovery program, combined with the trust and connection she felt with the coaches, she did not hesitate and agreed to participate in the program. For the next three months the trio would visit Sharon in prison where she would participate in group sessions, as part of the Path to Recovery program.
The gatherings helped Sharon to see there was hope. She started gaining back her self esteem and began focusing on identifying her strengths. Following her release from Plane State Jail, Sharon was admitted into the residential treatment program at the Santa Maria- Jacquelyn House facility. The coaches helped her develop her own recovery plan which she followed faithfully. As she made outstanding progress she was referred to three different United Way organizations where she was embraced and empowered. Her recovery coach remained closely connected with her during all of her transitions. Sharon eventually had a part time job, was paying minimal costs for her own apartment as she continued to improve her health and wellness, and build the Recovery Capital necessary to sustain long term recovery. She was now taking leaps forward, without looking back at her past.
Two years into recovery, she became a recovery coach and began volunteering with Santa Maria. She went back to the same prison and same dorm she was recruited out of, "I know the way out," she told them. Sharon volunteered for 10 months before her passion, commitment and skills earned her a full-time recovery coach position at Santa Maria, under the leadership of the Senior Director of Recovery Support Services, Amelia Murphy, who was her recovery coach in Path to Recovery. While in this position she became an officer for the Peer Advisory Council, and was able to use the talent she developed while earning her Bachelor of Fine Arts from U of H in 1996 by designing the logo for this group. She continued to excel and even had the opportunity to jointly with Amelia go to the Texas State Capitol to make a presentation in support of H.B. 1486, advocating for the value of peer support specialist roles in the mental health and addiction recovery arena. Sharon held her position with Santa Maria for two and half years, and she is now working for the Council on Recovery. Today, she continues to volunteer with Santa Maria, facilitating a recovery meeting every Saturday, and taking ladies to meetings. "Santa Maria saw beyond my symptoms and focused on my spirit. I went from being a financial drain to a tax paying, volunteering asset to my community," she proudly states.