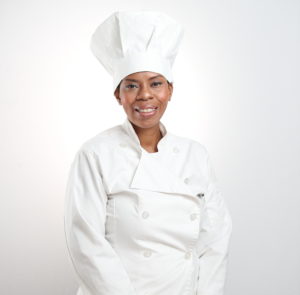 Tifini has been a teacher, a social worker and a professional hair and make up artist, well-known and successful.  She had a blog and with a partner founded a life-style magazine.  She was a member of the New York Association of Black Journalists. She had three children and a home of her own.
Then things darkened as she slipped into a jarring foreclosure. She left her home and traveled to Houston, finding work as a substitute teacher.  The loneliness, extreme depression and shame of her circumstances intensified her drinking.  She knew she was approaching addiction with her alcohol use and needed support.  Another eviction leveled her, alone with two children in a strange city.
A friend told her about Santa Maria and she applied for housing in our HUD program of transitional apartments for women and children who are homeless.  She was on the waiting list for four months…but she was persistent. She was finally accepted in February 2015.
Once safe in her new surroundings, her case manager, Erin Martin recognized that there were issues with alcohol and Tifini needed treatment.  It was actually a big relief because she knew that she had needed treatment had not sought it out because she had no place for her children to go will she engaged. Here, she could be in treatment and have her children with her! She was switched to the Women with Children program and spent 120 days in treatment.  Later she completed the Outpatient phase while training for work.
Another staff member, Senior Director Donna White saw something special. Tifini was recommended for a culinary training program through the Houston Food Bank and SER Jobs for Progress,  a collaboration arranged by Educational Services Instructor, Linda Johnson. She would be the all important first client from SMH to be given this opportunity.  She went on as an intern at Le Meridien, serving her time in the kitchen preparing meals for employees of the hotel.  She loved cooking and the ability to create!
Through grace, she has found friends, hope, church and community.  Erin and Donna have served as mentors to this productive young woman. Her children have thrived along with her and many times encouraged her to go on.  One day, one moment at a time and a lot of hard work have proved that life doesn't end because of mishaps.  She is the face and voice of RecovHERy as well as a proud member of the recovery movement.