Santa Maria receives a $15,000 grant from the Charity Guild of Catholic Women to support a program for child development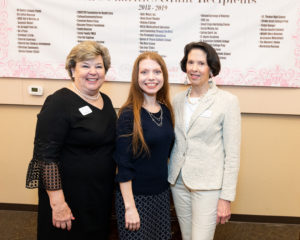 On February 4, the Charity Guild of Catholic Women awarded $586,000 to 47 non-profit organizations that help children in need in the Greater Houston Area. Santa Maria is a proud recipient of a grant for the Healing Hearts residential program component to provide behavioral health services, support groups and child development activities for children impacted by maternal substance use.
The Charity Guild was originally founded in 1922 to support what is now the San José Clinic (SJC). The Guild continues their support to SJC but the impact has expanded as the resale shop has grown in size and reputation.
The presentation took place at the Charity Guild Shop located at 1203 Lovett Blvd. Presenter Joanne Creasey, of West University, serves as this year's president.
A few of other awardees at this year's event include the Holocaust Museum Houston, Second Servings, Social Motion, MECA, St. Theresa Catholic School and Saint Pius X.