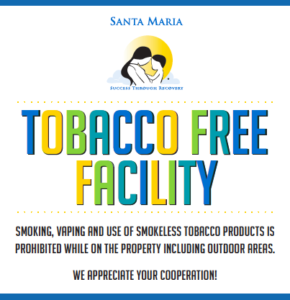 This new policy at Santa Maria, bans the use of all tobacco products, including cigarettes, cigars, pipes and smokeless tobacco, within all properties owned, leased, or occupied by Santa Maria.This includes parking lots, transportation vehicles, and employees' personal vehicles parked on property. Employees are prohibited from using tobacco products during working hours.
In implementing the new tobacco ban, Santa Maria will be offering symptom relief or tobacco-cessation treatment to interested staff and clients.
This project has been possible thanks to the support of Taking Texas Tobacco Free, an organization who is part of the University of Houston's prevention program who is commited to reducing the incidence of tobacco-related cancers among Texans by assisting community behavioral health centers across the state to adopt and implement comprehensive tobacco-free campus policies. The organization is funded by the Cancer Prevention and Research Institute of Texas and partners with Integral Care of Austin/Travis County and the University of Houston's HEALTH Research Institute on these projects.
Smoking, it's no small problem. According to the CDC, people with behavioral health conditions such as major depression, schizophrenia, and alcohol or drug dependence are more likely than those without such conditions to smoke and to smoke more heavily; in addition, they account for nearly half of all tobacco-related deaths each year. Texas has a higher rate of death attributable to smoking relative to the remainder of the U.S., at 273 per 100,000 adults.
To highlight the importance of this new policy, we are planning a kickoff event at two of our facilities. Where we will have educational materials on site as well as a carbon monoxide monitor to measure the amount of CO2 in the lungs.
When:             Friday Feb. 1.
Where:             10 a.m. – noon, Jacquelyn House, 2005 Jacquelyn Drive, Houston, 77055
1 p.m. – 3 p.m., Bonita House, 2605 Parker Road, Houston 77093
For the full press release from UofH, click here.