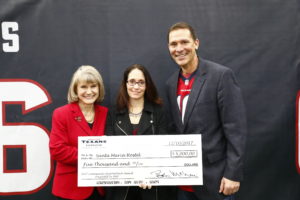 We would like to congratulate Lisa Carpenter, member of our Board, for being a recipient of the 2017 Community Quarterback Award presented by BHP on December 9.
Pictured from left to right are Anna Babin, President and CEO of United Way of Greater Houston, Lisa Bobkoff-Carpenter, member of the Board of Santa Maria and Steve Pastor, BHP President of Petroleum.
Special thanks to the Houston Texans Organization, United Way of Greater Houston, BHP and to Lisa Bobkoff-Carpenter for your commitment to the non profit organizations.