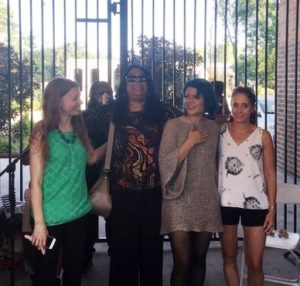 Bonita House was turned into a perfect stage where Allison Iraheta (an American Idol Finalist) performed with her Halo Circus Band on Wednesday July 5th 2017. This concert was a great opportunity for our clients and their families to enjoy and make positive memories.
Special thanks to Lisa Carpenter, one of our Board Members and to Stage Stores for organizing the cookout and all the activities planned around the concert.
Pictured from left to right are Nadine Scamp, CEO of Santa Maria Hostel, Amelia Murphy, Director of Recovery Support Services, Allison Iraheta and Lisa Carpenter.