Our Holiday Helpers
3 of 3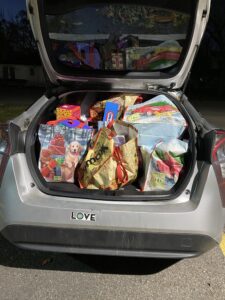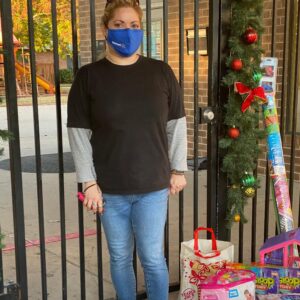 Walmart Central Fill – We can always count on Walmart Fill to come through with gift cards and toys for our kids at the holidays! It took two drop offs to include all their generosity. Thanks to their leader, Monica Teran for organizing her team to donate these great gifts.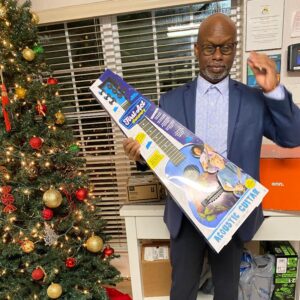 Peter Mott, long-time Houston recovery advocate and counselor, led his church group Knights of Peter Claver by remembering the older kids at Santa Maria. Peter went shopping and selected some really hip and cool toys that made our tweens happy. Shown here with a guitar, Peter shared his musical spirit and kindness, making the holidays a little brighter for our families.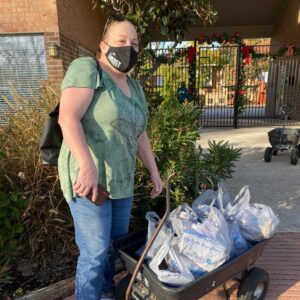 Mercy Street – Deborah Everitt
Pictured here is Deborah as she drops off items for the nearly 45 babies in residence at Bonita House. She is one of our most faithful supporters from the team at Mercy Street.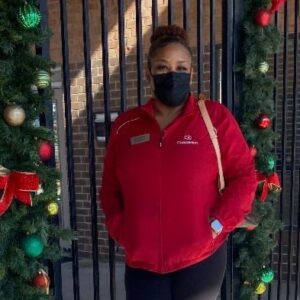 Thanks to Lisa Williams for remembering our clients in treatment for substance use disorder. A pretty self-care bag stocked full of personal care items reminded them that there is a community that supports their courage to change. It is the generosity of people like Lisa that reminds all of us of the true giving spirit.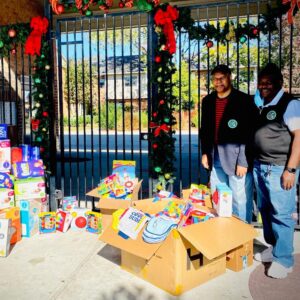 St. Mark's Ministries –
Answering the call with little blessings for our babies came naturally for our friends at St. Mark's Ministries. Elder Anthony Brodie, in the cheerful striped shirt, led the drive to collect these items.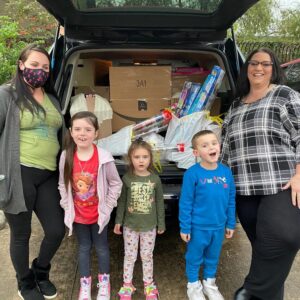 It's individuals like Monica Barger (pictured on right) and her children that truly spread Christmas cheer and spirit. Their family vehicle was packed with games, activity books, toys and stockings for all as they stopped by Bonita House to donate them! We are so grateful.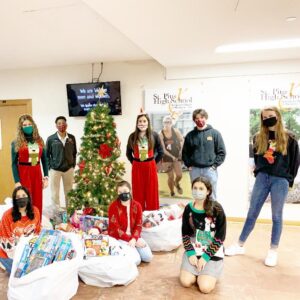 St. Pius X High School
Pictured here are several of the community minded high school students from St. Pius!! Their annual toy drive for Santa Maria was again an important holiday tradition. We are so grateful for the school's continued support.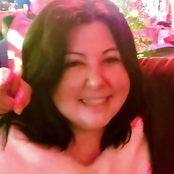 LeeAnn Alutto glows with a giving spirit! She shows that one individual can make a huge difference. Her generous gift of baby clothing and accessories were quickly distributed to our new moms! Thanks for caring so deeply, LeeAnn!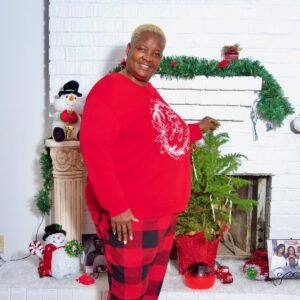 The sweet Angela Manuel and her "Sassy Sisters" group contacted Santa Maria for the first time this season. They wanted to help in any way they could. Their first donation was a carload of baby items, always needed. Now they are concentrating on welcoming backpacks with essential clothing items for survivors of sex trafficking who are joining our new STARS program. Thanks, Angela for your leadership and love.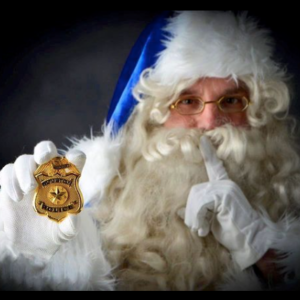 Three cheers for the Blue Santa Program and the Houston Police Department. This annual toy drive makes a huge difference in our community. For several years running, they have stopped by our door and provided beautiful new toys and gifts for our kids and teens. Our delivery was made by the Homeless Outreach Team – special angels of service. We appreciate the service of HPD and are grateful that they remembered their friends at Santa Maria.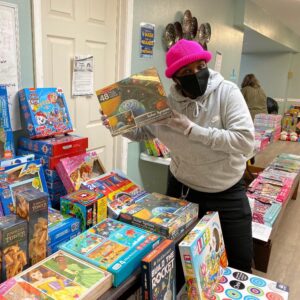 For the seventh year in a row, AWTY International School collected toys for the children at Santa Maria. Even with COVID protocols making the exchange difficult, we were amazed to see the beautiful toys arrive on campus. We appreciate the administration's giving heart and continued support.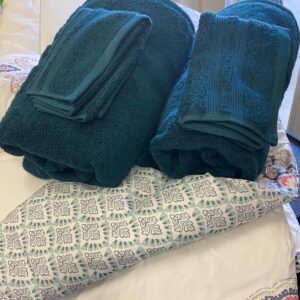 Lush new linens arrived through various direct shipments from our great partner, Holy Family Episcopal Church. The beautiful comforters, sheets sets and towels sets will certainly brighten the rooms of our clients as they settle in to their new home. Leave it to Holy Family to send these practical and beautiful gifts for Christmas.